All the FAQ's on Bluestone Crazy Paving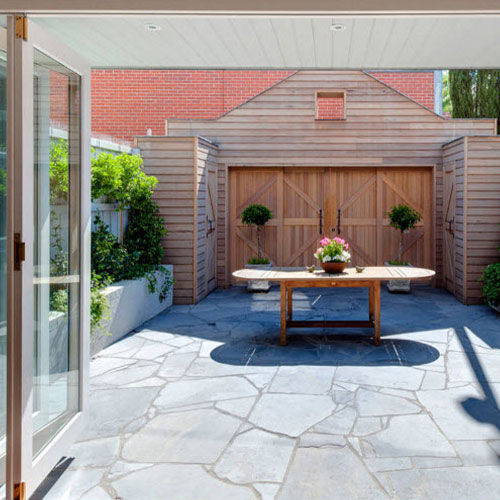 Bluestone Crazy Paving offers a stunning and sophisticated choice for enhancing outdoor spaces with its timeless elegance and versatility.
Available in a range of captivating color hues, including Australian Bluestone, European Bluestone, and premium Harkaway Bluestone, allowing for personalized landscape designs.
Australian Bluestone showcases light bluey grey tones with a high percentage of catspaw, while European Bluestone exhibits a light bluey grey hue with noticeable catspaw, adding character to the surface.
Harkaway Bluestone stands out as a premium choice, featuring an overall darker grey appearance with significantly less catspaw, offering a luxurious and sophisticated feel to outdoor areas.
Bluestone Crazy Paving boasts an effortless installation process, with uniform thickness options of 20mm or 30mm, ensuring a polished and seamless surface without mismatched sizes.
Australian Bluestone, European Bluestone, and Harkaway Bluestone all offer the convenience of consistent thickness, simplifying the laying process.
Versatile paving options include Australian Bluestone in both an organic look and offcut material, providing a visually appealing and diverse surface.
Harkaway Bluestone and European Bluestone exclusively come in organic natural crazy paving, offering a charming and rustic appearance suitable for various outdoor settings.
Bluestone Crazy Paving comes with matching step treads and pool coping, achieving a harmonious and refined landscape design with seamless flow and a polished finish.
Practical benefits include medium heat resistance, keeping the surface cool underfoot even in warm weather, and natural porosity, rendering it stain-resistant, preventing unsightly marks.
Bluestone exhibits resistance to salt, making it an ideal choice for pool areas and coastal regions, and its inherent durability ensures longevity and minimal wear and tear.
Embrace the timeless elegance, easy installation, captivating color hues, and matching step treads and pool coping of Bluestone Crazy Paving for an exceptional outdoor space that endures and impresses.