[et_pb_section bb_built="1″ _builder_version="3.0.90″ custom_margin="-50px|||"][et_pb_row][et_pb_column type="1_3″][et_pb_text admin_label="MAIN HEADING" _builder_version="3.0.90″ background_layout="light"]
[/et_pb_text][et_pb_text admin_label="PAVERS HEADING H2″ _builder_version="3.0.90″ background_layout="light" custom_margin="-50px|||"]
[/et_pb_text][et_pb_image admin_label="BLUESTONE PAVERS" _builder_version="3.0.90″ src="https://bluestone-pavers.com.au/wp-content/uploads/2014/09/bluestone-pavers-outdoor-pavers-1.jpg" show_in_lightbox="off" url="https://bluestone-pavers.com.au/products/" url_new_window="off" use_overlay="off" align="left" always_center_on_mobile="on" force_fullwidth="off" show_bottom_space="on" alt="Bluestone Pavers" title_text="PAVERS" custom_margin="-50px|||" /][et_pb_text admin_label="TILES HEADING H2″ _builder_version="3.0.90″ background_layout="light"]
[/et_pb_text][et_pb_image admin_label="BLUESTONE TILES" _builder_version="3.0.90″ src="https://bluestone-pavers.com.au/wp-content/uploads/2014/07/Bathroom-floor-Tiles-and-wall-tiles-in-Honed-Bluestone.jpg.jpg" show_in_lightbox="off" url="https://bluestone-pavers.com.au/products/" url_new_window="off" use_overlay="off" align="left" always_center_on_mobile="on" force_fullwidth="off" show_bottom_space="on" alt="Bluestone Tiles" title_text="TILES" custom_margin="-50px|||" /][et_pb_text admin_label="POOL COPING TILES HEADING H2″ _builder_version="3.0.90″ background_layout="light"]
[/et_pb_text][et_pb_image admin_label="BLUESTONE POOL COPING" _builder_version="3.0.90″ src="https://bluestone-pavers.com.au/wp-content/uploads/2014/07/ENHANCED-BLUESTONE-POOL-COPING.jpg" show_in_lightbox="off" url="https://bluestone-pavers.com.au/products/" url_new_window="off" use_overlay="off" align="left" always_center_on_mobile="on" force_fullwidth="off" show_bottom_space="on" alt="Bluestone Pool Coping" title_text="Pool Coping" custom_margin="-50px|||" /][et_pb_text admin_label="CRAZY PAVING HEADING H2″ _builder_version="3.0.90″ background_layout="light"]
[/et_pb_text][et_pb_image admin_label="BLUESTONE CRAZY PAVING" _builder_version="3.0.90″ src="https://bluestone-pavers.com.au/wp-content/uploads/2015/09/Bluestone-crazy-paving-outdoor-pavers.jpg" show_in_lightbox="off" url="https://bluestone-pavers.com.au/products/" url_new_window="off" use_overlay="off" align="left" always_center_on_mobile="on" force_fullwidth="off" show_bottom_space="on" alt="Crazy Paving" title_text="Crazy Paving" custom_margin="-50px|||" /][et_pb_text admin_label="STEPPING STONES HEADING H2″ _builder_version="3.0.90″ background_layout="light"]
[/et_pb_text][et_pb_image admin_label="BLUESTONE STEPPING STONES" _builder_version="3.0.90″ src="https://bluestone-pavers.com.au/wp-content/uploads/2014/09/stepping-stones-bluestone.jpg" show_in_lightbox="off" url="https://bluestone-pavers.com.au/products/" url_new_window="off" use_overlay="off" align="left" always_center_on_mobile="on" force_fullwidth="off" show_bottom_space="on" alt="Stepping Stones" title_text="Stepping Stones" custom_margin="-50px|||" /][/et_pb_column][et_pb_column type="2_3″][et_pb_text _builder_version="3.0.90″ background_layout="light"]
Bluestone Facts
Bluestone is embedded into the bedrock of Melbourne, literally. From Melbourne's early years up to the present bluestone is the most used stone for pathways, kerbs and alleyways in central Melbourne.
The advantages of using Bluestone paving?
As a paving material, Bluestone is extremely durable, environmentally friendly and visually appealing. Its low level of radioactivity makes it ideal for residential and commercial properties. In addition, our Bluestone has a special texture that is known as #400 grit. This means the stone is sandpapered twice with a #200 grit sandpaper, creating a smooth surface that is anti-slip. Finally, Bluestone is designed to be safe and attractive for people of all ages, with natural anti-slip properties and high curbside appeal for any real estate market.
Being Melbourne's preeminent paving experts, we have  Pavers and Stone is proud to offer a range of Bluestone pavers in different sizes, including:
500x500x10mm
500x500x20mm
500x500x30mm
600x600x20mm
600x600x30mm
600x300x10mm
600x300x20mm
600x300x30mm
800x400x10mm
800x400x20mm
800x400x30mm
1000x500x20mm
1000x500x30mm
1200x600x20mm
1200x600x30mm
1200x800x30mm
Bluestone is also available in bullnose or slight bevel and dropface pool copers or step treads. Bluestone bullnose or bevel edged tiles are either 20mm or 30 mm thick. The beveled or bullnose edge ensures that you'll have a safe and attractive surface at your pool or step edge. Bluestone dropfaces are made from a solid single thick piece of stone with the area underneath of the stone is ground away, leaving a seamless dropface edge that suits any contemporary architecture or interior design scheme—an ideal fit for any Berwick or Brighton, Malvern, Kew area homeowner.
Please note that the tiles can be cut to the EXACT step tread width OR pool beam width by us at a small additional cost.
Bluestone bullnose OR Bevel edged copers or step treads are available in the following sizes:
600x300x20mm
600x300x30mm
800x400x20mm
800x400x30mm
1000x500x20mm
1000x500x30mm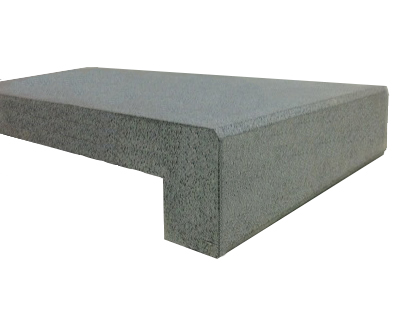 Bluestone dropface pool copers OR step treads are available in the following sizes:
500x500x40/20mm
500x500x75/20mm
600x350x40/20mm
600x350x75/20mm
800x400x40/20mm
800x400x75/20mm
1000x500x40/20mm
1000x500x75/20mm
1000x500x100/20mm
1000x350x40/20mm
1000x350x75/20mm
CRAZY PAVING AVAILABLE
We have 2 forms of crazy paving in Bluestone available.
Off cut crazy paving is basically all the remaining material that is left over after producing our tiles and pavers. It will also include broken pavers. So you are to expect straight lines on 2-3 sides of the material.
This form of crazy paving is available in 20mm, 30mm and 40mm thicknesses, with prices ranging from $36m2 rhtu to $49m2.
Natural free formed bluestone crazy paving is our most natural bluestone crazy pave. Prices for this crazy pave start at $59m2 for 20mm thickness, $77m2 for 30mm thickness.
STEPPING STONES
Our Bluestone stepping stones are simply the natural boulders sliced up into the desired thickness. Thus we can guarantee an irregular shape with its natural rustic boulder edge still intact on most occasions.
Thickness 20mm
Approx Diameters 300mm – 500mm $22ea
Approx Diameters 500mm – 700mm $35ea
Approx Diameters 800mm – 1000mm $55ea
Thickness 30mm
Approx Diameters 300mm – 500mm $35ea
Approx Diameters 500mm – 700mm $45ea
Approx Diameters 800mm – 1000mm $65ea
[/et_pb_text][/et_pb_column][/et_pb_row][/et_pb_section]